Procurement, Science and Technology Q3-2014
This issue of Procurements, Science and Technology covers a wide range of news – all related to munitions and munitions safety. The world noticed the failure of a large rocket motor – and while we know it's not a weapon system – much of the public only sees front page news of the spectacular explosion and failure. I include reference to it in both sections of the newsletter – how it effects the business decisions between ATK and Orbital, as well as later to mention a few of the other large motor launches and tests that went exactly as planned. The awareness of such events may effect how we address munition safety for the systems under our responsibility. And maybe the recent landing of a ESA probe on a comet will remind and enamor the general public (once again) to the amazing things scientists and engineers accomplish.
There are business mergers and agreements noted identified herein and many interesting munition contracts. In the news was our new NATO SEC GEN, as well as munition related agreements signed by Turkey, Poland, and the US. The AUSA conference was held in October. It was a massive conference with endless display of products and services. I believe almost every aspect of munitions was addressed somewhere at this conference – with some newer technologies clearly trying to find an interested application or sponsor. If one was interested in amazingly large sheets of carbon nanotube "cloth", a futuristic high-energy weapon, or a mini gun equipped VW bus, it was there on display, in a booth or brochure. I noted that the US Army was quoted during the conference - that a military commander "need(s) people who improve and thrive in conditions of chaos. There is a big difference between comfortable and thriving." So if your life, office or work-environment is in a state of chaos, and you're somewhere between surviving and thriving, you may be developing a highly desired set of skills.
In the technology section, I mention a few of the recent laser /directed energy weapon accomplishments by Raytheon, Boeing and Lockheed Martin, in addition to Raytheon supplying components for Iron Dome covered in the procurements section. Guided rockets also are mentioned – with APKWS being tested with a FZ rocket in Australia and Talon being fired from a MD helicopter. The section mentions recent cruise missile test by France, an SM-3 intercept test by the US.
And I couldn't really miss not having something on additive manufacturing / 3D printing, so I include some recent work by Aerojet Rocketdyne, as well as a 3-D printed car the "Strati" from Local Motors.
Procurements / International agreements
MSIAC lives and works at NATO HQ in Brussels. Therefore we lead this newsletter with a report from our new Secretary General, Jens (as he introduced himself to us recently).
NATO Chief Urges Allies to Boost Defense Spending, Build Ties with RussiaOct. 28, 2014
In a confident appearance, the new NATO Secretary General Jens Stoltenberg spoke about his aims to persuade NATO countries to boost defense spending and to build a constructive relationship with Russia.  On defense spending, he referred to the NATO summit in Wales, when allies committed to stop reductions in defense spending and to gradually increase it over the next decade as their economies grow. "After the Cold War, there were arguments to reduce spending," he said but "now we're moving into an uncertain environment where there are more threats and more instability (such as failing states in the south, missile proliferation, energy disruption and cyber attacks), and so there are arguments for increasing defense spending."  He named Poland and Romania as examples of countries that were giving more priority to defense spending and indicated he would use them as examples to convince other leaders of the merits of increasing defense spending.  http://www.defensenews.com/article/20141028/DEFREG01/310280024/NATO-Chief-Urges-Allies-Boost-Defense-Spending-Build-Ties-Russia?odyssey=mod|nextstory
Lockheed Martin Signs Cruise missile Deal with Roketsan, Oct. 27, 2014  
Lockheed Martin and Turkey's state-controlled missile maker, Roketsan, have signed a deal to produce the Turkish company's SOM-J cruise missile for the international Joint Strike Fighter program.  The agreement involves the development, production, marketing, selling and supporting of the SOM-J for internal carriage on the F-35 or external carriage on other aircraft. The SOM system is an autonomous, long-range, low-observable, all weather, high-precision, air-to-surface cruise missile. http://www.defensenews.com/article/20141027/DEFREG/310270014/Lockheed-Martin-Signs-Deal-Turkish-Missile-Maker
MBDA signs agreements for stronger cooperation with Polish industry 02/09/2014
On 2nd September, at the MSPO military exhibition in Kielce (Poland), Antoine Bouvier, CEO of MBDA, signed two Letters of Intent (LoI) with Waldemar Skowron, CEO of MESKO and with Ryszard Kardasz, CEO of PIT-RADWAR S.A, relating to the Polish "Wisla" medium range air and missile defence programme.
These first LoI signatures confirm MBDA's willingness to pursue concerted cooperation with all Polish industrial members of the Polish Air Defence consortium, as has been undertaken so far during technical dialogue.
As a strategic European partner within NATO, MBDA is committed to deliver a high level of industrial collaboration with its Polish industrial partners and to develop a long-term industrial partnership, with a high quality of Transfer of Technology.
The two LoIs signed today between MBDA and MESKO and PIT-RADWAR S.A respectively are concrete examples of how Polish industry and its MoD will gain access to breakthrough technology.
In the LoI with MESKO, MBDA is proposing to its Polish partner to expand cooperation on Aster 30 B1 missile equipment, but also to be involved in the development of the new Aster B1NT missile. The scope of cooperation starts from the production of main equipment for the missiles and continues through to the final assembly line. Key advanced technologies such as warhead, booster and servo actuators will be transferred to our Polish partners, as well as missile maintenance and training.
The LoI with PIT-RADWAR S.A includes a high degree of Transfer of Technology and Transfer of Know How on both Aster 30 Block1 and Aster 30 Block1 NT missile uplink receiver equipment.
http://www.mbda-systems.com/mediagallery/#/news/3414
ATK Sets December 9 as Date of Special Stockholder Meeting to Vote on Issuance of ATK Shares in Connection with Previously Announced Transaction with Orbital
(Reference to the rocket launch failure is also presented in the Technical Section of this newsletter) Oct 28, 2014 -- Alliant Techsystems Inc. ("ATK") announced today that it has set a date for a special meeting of its stockholders to consider and vote on the issuance of ATK shares to stockholders of Orbital Sciences Corporation ("Orbital") in connection with ATK's previously announced plan to spin-off its Sporting Group business and, immediately thereafter, merge its Aerospace and Defense Groups with Orbital. The special meeting will be held on December 9, 2014, at 9 a.m. local time, at ATK's corporate headquarters at 1300 Wilson Blvd., Ste. 400, Arlington, Virginia 22209. ATK stockholders of record as of the close of business on October 29, 2014 will be entitled to vote at the special meeting. The record date for the spin-off will be determined and publicly announced at a later date. http://www.atk.com/
MBDA launches "Club Corsaire", a group of companies to help improve the commercial strength of SMEs and Mid-sized Businesses  26/10/2014
At Euronaval 2014, MBDA is launching "Club Corsaire", a loose grouping of companies aimed at combining the efforts of European concerns, particularly SMEs and Mid-sized Businesses, active in the maritime security market. The idea of forming a club is to help improve the commercial strength of its members in the export market. Potential members will range from equipment suppliers right through to naval shipyards.
From the protection of harbour infrastructures, the fight against piracy right up to the defence of offshore platforms, the maritime security market is vast, complex and forever evolving in the face of new global geopolitical tensions and threats.
As a major partner of the world's navies for more than 40 years, MBDA has reinforced its offer regarding defence and maritime security systems – missile systems, C2 (CWSP/Sea Ranger), coastal batteries – to best meet the requirements expressed by its export customers. Through "Club Corsaire", MBDA is proposing a framework within which equipment suppliers and prime contractors in this market can exchange commercial and marketing information in order to better organise and coordinate their export activities. The Club is also intended to allow equipment suppliers (particularly SMEs and Mid-sized Businesses) to promote their activities amongst naval shipyards and major prime contractors thereby developing synergies for export.
http://www.mbda-systems.com/mediagallery/#/news/3432
US Military Sales to Allies Tops $34B in 2014 Oct. 27, 2014
The US government helped facilitate the sale of $34.2 billion worth of defense equipment to allies during fiscal 2014, the Defense Security Cooperation Agency (DSCA) announced, a slight uptick from the roughly $30 billion in sales in 2013. Leading the list was the $11 billion purchase of 10 Patriot missile batteries by Qatar in July a deal that included 24 Apache helicopters and 500 Javelin anti-tank missiles. The United States also signed a few headline-grabbing deals with the Iraqi government in 2014, including agreements to sell hundreds of millions of dollars worth of Abrams tank rounds and Hellfire missiles as the Baghdad government continues to battle the radical Islamic State group in the north and west of the country.
Ramping up foreign military sales (FMS) with partner nations falls in line with the overall defense strategy outlined by the Obama administration to train and equip allies to handle their own security issues, as opposed to relying on US military power to maintain stability in their backyards. This month, DSCA rolled out a new strategy document aimed at making the FMS process more responsive to allied nations' needs by outlining a legislative push to streamline some key provisions of the Arms Export Control Act, which would simplify the transfer of defense equipment overseas.
http://www.defensenews.com/article/20141027/DEFREG02/310270021/US-Military-Sales-Allies-Tops-34B-2014
Mideast, US Lead Sharp Rise in "SMART" Munitions Market  Jul. 27, 2014 
The global smart weapons market, valued at $3.6 billion in 2013, is expected to reach $5.3 billion by 2018, according to an industry report. The United States, which has about a third of the global market, is the most attractive for smart weapons, which include anti-armor weapons, guided munitions, guided projectiles, guided rockets and stand-off missiles. The Middle East is the second-largest market. Saudi Arabia, UAE, Israel, Qatar and Iran are the major defense spenders in the region. Spending on guided munitions alone in the Middle East is forecast to reach $267.5 million in 2014 and peak at $344.2 million in 2016 before dropping to $198.5 in 2018. Spending on standoff missiles is set to jump sevenfold, from $23 million in 2014 to $173.3 in 2015, and peak at $208 million in 2018. US contractors and European firms are positioned to win significant smart weapons contracts during the forecast period, with the US remaining as a key ally to Israel, Jordan, Saudi Arabia and the UAE, while countries such as France and the UK maintain a good relationship with the Middle East. It was considered that "South African firm Denel, Serbian enterprise Yugoimport, Turkish company Roketsan and French manufacturer MBDA have been successful in the region due to their 'lassez-faire' approach to dealings with Middle Eastern states". Saudi Arabia's massive modernization of its fighter fleet, UAE's upgrade of its armed forces, and the demand from Israel and Jordan is creating immense potential for smart weapons in this region. A good short list of procurement highlights can be found at this link:
http://www.defensenews.com/article/20140727/DEFREG04/307270018/Mideast-US-Lead-Sharp-Rise-Munitions-Market
Aiming To Cut Collateral Damage, Canada Eyes Smarter Weapons, Networked Munitions Jul. 27, 2014
The Royal Canadian Air Force is looking at acquiring new weapons to reduce collateral damage. In a list of equipment needs provided to industry, the Air Force outlined a number of proposed munitions acquisitions worth more than CAN $1 billion (US $970 million). The most immediate was what the service is calling a low collateral damage weapon. "A low collateral damage weapon allows employment in urban and politically sensitive operations with reduced likelihood of unintended weapons effects," the Defence Acquisition Guide noted. "The weapon must provide weapons effects with a footprint less than a 500 [pound] General Purpose bomb." Royal Canadian Air Force officers listed as a priority of the service's weapons strategy the purchase of "low collateral damage weapons" as well as network-enabled weapons.
The Air Force also has a need for a new advanced short-range missile to replace the current AIM-9M; a missile with greater range and improved ability to overcome enemy countermeasures. Dependent on the Air Force's proposed procurement of a new fighter aircraft and "looking forward to discussions on weapons options for whatever aircraft is chosen. AMRAAM, Block 2 Sidewinder and [small diameter bomb] II will all be part of the discussions." For that future fighter, the RCAF has identified the need for what it is calling a complex weapon — an advanced air-to-ground / air-to-surface weapon for use in a future network-enabled environment.
Options won't be examined until 2016. A contract would be awarded in 2019 with deliveries in 2021. Also needed for the future fighter is a long-range air-to-air missile but the project will not start until after 2026.
http://www.defensenews.com/article/20140727/DEFREG02/307270015/Aiming-Cut-Collateral-Damage-Canada-Eyes-Smarter-Weapons
US Air Force Awards Lockheed Martin Majority Share Of Paveway II Plus Laser Guided Bomb Contract
Nov. 11, 2014 – Lockheed Martin received a $40.3 million contract from the U.S. Air Force for follow-on production of Paveway II Plus Laser Guided Bomb (LGB) kits.
The contract represents the majority share of fiscal year 2014 funding and the eighth award under the five-year indefinite delivery, indefinite quantity contract. Deliveries will begin in June 2015 and will include computer control groups and airfoil groups for GBU-10 and GBU-12 bombs. The Paveway II Plus LGB kits incorporate an upgraded laser guidance package, significantly improving overall system performance and precision.
The Paveway II Plus LGB kit consists of a MAU-209C/B computer control group containing the electronic guidance system and an airfoil group to provide lift and stability to the weapons in standard GBU-10 MK-84 (2,000 lb.), GBU-12 MK-82 (500 lb.) and GBU-16 MK-83 (1,000 lb.) series configurations.
Lockheed Martin has delivered more than 135,000 training rounds, more than 70,000 Paveway II LGB kits and 7,000 dual mode systems to the U.S. Navy, Marine Corps, Air Force and 20 international customers http://www.lockheedmartin.com/us/news/press-releases/2014/november/mfc-111114-us-airforce-awards-lockheed-martin-pavewaytm-laser-guided-bomb-contract.html
US Air Force awards Raytheon contract for Griffin missiles US Air Force awards Raytheon contract for Griffin missiles
Nov. 7, 2014
Raytheon Company has been awarded a $85.5 million contract for Griffin missiles and support. The first increment of the contract was funded at $32.5 million and orders are expected for missiles and engineering services over the life of the contract.
Raytheon will deliver Griffin A and B Block II/III missiles as well as test and support equipment under firm-fixed-price contract line item number along with engineering support under a cost-plus-fixed-fee contract line item number. Work will be performed in Tucson, Arizona, and is expected to be completed by Oct. 30, 2017. This award is the result of a sole-source acquisition.
http://raytheon.mediaroom.com/index.php?s=43&item=2680
US Navy awards Raytheon $49.5 million enhanced Laser Maverick production contract
US Navy awards Raytheon $49.5 million enhanced Laser Maverick production contract
Oct. 16, 2014 - The U.S. Navy has awarded Raytheon Company a $49.5 million contract for production of new laser-guided Maverick missiles (AGM-65E2/L). The Navy also intends to exercise a contract option to purchase additional units bringing the total contract value to $54.9 million.
The Maverick weapon system, a U.S. Air Force (USAF)-led joint service program, is a forward firing, precision-guided, close air support missile. Maverick is effective against a wide variety of fixed, stationary, moving and maneuvering land and sea targets.
http://raytheon.mediaroom.com/index.php?s=43&item=2663
ATK Awarded $65 Million in Contracts for Medium- and Large-Caliber Ammunition Production Oct 14, 2014
The contracts awarded include both domestic and international orders for 25mm, 30mm and 120mm tactical and training ammunition. The large-caliber ammunition award included funding to deliver 120mm, M1002 Multi-Purpose Anti-Tank, Target Practice with Tracer, designed for use with the M1A1/A2 Abrams main battle tank. Medium caliber orders included an international order for the MK310 Programmable Air Bursting Munition (ABM) with Tracer from the Belgian Army for use with their Piranha III combat vehicles outfitted with ATK-produced MK44 cannons with ABM fuze setting capability. Additional orders include the 30mm PGU-13 High Explosive Incendiary (HEI) cartridge; the LW30mm M788 Target Practice and M789 High Explosive Dual Purpose tactical round; the 25mm M792 HEI-T using the ATK-developed self-destruct fuze; and the 25mm PGU-23 untraced target practice cartridge. http://www.atk.com/ In addition, ATK awarded $204 million in contracts to supply non-U.S. standard ammunition (NSA) for the Department of Defense in support of international allies said the vice president and general manager of ATK's Small Caliber Systems division. http://www.atk.com/
ATK's awarded AARGM contract worth $96M from U.S. Navy Aug 11, 2014
ATK has been awarded a contract valued at $96.2 million by the U.S. Navy for the third full-rate production lot of the Advanced Anti-Radiation Guided Missile (AARGM). The contract covers AARGM and Captive Air Training Missiles for the U.S. Navy and Italian Air Force.
AARGM is a supersonic, air-launched tactical missile system, upgrading legacy AGM-88 HARM systems with advanced capability to perform Destruction of Enemy Air Defense missions. It is able to rapidly engage traditional and advanced land- and sea-based air-defense threats, as well as non-radar, time-sensitive strike targets.
AARGM is currently deployed with the U.S. Navy and U.S. Marine Corps. AARGM achieved Initial Operational Capability in July 2012 and was approved by the Navy for Full Rate Production in September 2012. AARGM is a U.S. Navy and Italian Air Force international cooperative major acquisition program with the U.S. Navy as the executive agent. AARGM is currently deployed on U.S. FA-18C/D Hornet aircraft and is being integrated for use on the U.S. Navy's EA-18G Growler and FA-18 E/F Super Hornet aircraft, as well as the Italian Air Force's Tornado ECR aircraft. The missile is also compatible with the F-35, EA-6B, allied FA-18, and U.S. and allied F-16. http://www.atk.com/
Coverage from AUSA conference Oct 13 – 15, 2014
It is big; advertised as the largest land warfare conference in the word. I agree. The Resodyn booth was quite interesting, as expected, with more and more sites around the world now using the RAM systems for mixing energetic materials. There were a number of interesting mitigation technologies on display. This ranged from carbon Nanotube sheets, to variety of RPG defeat / deflect / initiation systems, for both active and passive systems, to aluminum sheets/plates with interesting properties to slow/defeat incoming projectiles and blast. And of course, nearly everyone had their version of a safe, affordable, fully integrated guided munition ranging from tiny to tremendous.
http://www.defensenews.com/section/showscout04?odyssey=refresh
US Bans Anti-Personnel Mines Except On Korean Border Sep. 23, 2014
The United States said Tuesday it halting the use of anti-personnel mines apart from in the tense No Man's Land between the Koreas, a step closer to compliance with a global convention. On the 20th anniversary of then president Bill Clinton's pledge to back the eventual elimination such weapons, Barack Obama's administration said it was "aligning its policy" on anti-personnel landmines (APLs) with the Ottawa Convention. It was also noted that the US would also "undertake to destroy APL stockpiles not required for the defense of the Republic of Korea". The United States has provided more than $2.3 billion in aid since 1993 in more than 90 countries for conventional weapons destruction programs. Since Mozambique hosted its first landmine conference in 1999, the number of state parties to the mine ban convention has more than tripled from 45 to 161, although key major powers remain on the sidelines; such as China and Russia, nuclear powers India and Pakistan and the two Koreas, nor has arch-foe Iran. http://www.defensenews.com/article/20140923/DEFREG02/309230035/US-Bans-Anti-Personnel-Mines-Except-Korean-Border
India Chooses Israel Over US for $525M Missile Deal, part of larger $13.1 billion modernization efforts  Oct. 26, 2014 
India has chosen to buy anti-tank guided missiles from Israel, rejecting a rival US offer, as the right-wing government clears projects worth $13.1 billion to modernize its aging military.  Prime Minister Narendra Modi's government will buy 8,356 Spike missiles and 321 launchers from Israel in a deal worth 32 billion rupees ($525 million). 
http://www.defensenews.com/article/20141026/DEFREG03/310260009/India-Chooses-Israel-Over-US-525M-Missile-Deal-Sources-Say
http://defense-update.com/20141025_indian-army-opts-to-buy-israeli-spike-multi-purpose-missiles.html#.VGNzef7QeJA
India Gives In to Russia's Terms For High-Priced Tank Ammunition Oct. 21, 2014
The Indian Defence Ministry — faced with a shortage of ammunition for its Russian-made T-90 tanks, coupled with an inability to produce ammunition at home — has no choice but to give in to Russian terms and purchase marked-up ammo from Moscow. The MoD reluctantly agreed to the deal last month, despite the fact that Russia hiked the price by 20 percent and refused to accept offset obligations. Russia will receive a $197 million contract for the fin-stabilized armor-piercing discarding sabot. Besides the price, the Russians also refused to transfer technology for making the rounds to the state-owned Ordnance Factory Board (OFB), a demand India has been making for the past five years. The Indian Army operates more than 500 T-90 tanks, and plans to increase the strength to more than 1,300 by 2020 through license-production at Indian facilities.
http://www.defensenews.com/article/20141021/DEFREG03/310210050/India-Gives-Russia-s-Terms-High-Priced-Tank-Ammunition
Chinese submarines to get a new, long range cruise missile  Nov 11, 2014  
A cruise missile designed to be launched from attack submarines was unveiled at Airshow China. The new missile, designated CM-708UNA, was developed by Aerospace Science and Industry Corporation (CASIC). Company sources confirmed the missile has entered production.
The CM-708UNA is launched by torpedo tube and is therefore adaptable to conventional submarines (not equipped with vertical launchers). The missile employs an inertial navigation and satellite navigation for mid-course guidance, using a radar seeker for terminal homing. The missile is powered by a rocket boosted turbojet engine carrying the missile to a range of 128 km.
Chinese submarines are already equipped with Ying Ji (C-801) submarine launched anti-ship missiles, which have also been exported to Pakistan. These missiles have a range of up to 42 km.
http://defense-update.com/20141111_chinese-submarines-to-get-a-new-long-range-cruise-missile.html#.VGOFRP7QeJA
Raytheon awarded $251 million Tomahawk missile contract
Sept. 26, 2014 The U.S. Navy awarded Raytheon Company a $251 million contract to procure Tomahawk Block IV tactical cruise missiles for fiscal year 2014 with an option for 2015.
The contract calls for Raytheon to build and deliver Tomahawk Block IV cruise missiles to the U.S. Navy and U.K. Royal Navy. Raytheon will also conduct flight tests and provide life-cycle support. Production and delivery of the missiles is scheduled to begin in 2015.
http://raytheon.mediaroom.com/index.php?s=43&item=2646
Republic Of Korea Approves Procurement Of Lockheed Martin F-35A    
Sept. 24, 2014 – The Republic of Korea finalized its formal selection of the Lockheed Martin F-35A Lightning II aircraft for its F-X fighter acquisition program, announcing its intent to sign the Letter of Offer and Acceptance (LOA) between the U.S. and Korean governments for 40 F-35A Conventional Take Off and Landing (CTOL) variant jets with initial deliveries beginning in 2018.  
 http://www.lockheedmartin.com/us/news/press-releases/2014/september/0924-aero-south-korea-f-35.html
Lockheed Martin Selected To Maintain In-Transit Visibility Program for DOD Shipments
September 8, 2014 – When consumers rely on packages to be accurately and promptly delivered, a precise in-shipment tracking system is important. When the Department of Defense (DOD) does the same with weapon systems, the level of importance is greatly amplified.
Lockheed Martin will continue sustainment and operations for the Integrated Data Environment / Global Transportation Network Convergence (IGC) program which provides the DOD with near real-time enterprise access to logistics and transportation data used to track assets in motion, in storage and in theater to provide end-to-end supply chain visibility. This $26.8 million award is a follow-on to the 2008 contract.
IGC is the United States Transportation Command's program of record for in-transit visibility and the program of record for the Defense Logistics Agency's asset visibility system. The system creates the greatest opportunity of a distribution network that ensures consistent access to authoritative logistics data, business rules and reliable information. IGC provides warfighters with the best information technology tools for supply and transportation while eliminating redundancies to streamline the support of informed and agile decision making.
IGC integrates more than 950 transaction types from 67 external DOD transportation, logistics and supply system interfaces and over 250 commercial transportation carriers into a single integrated data model to provide complete, consistent, and authoritative data in near-real time. IGC processes and loads nearly 3.5 billion transactions per month into two active, unclassified and classified environments in support of over 6,000 end users. More than 17,000 business rules have been implemented to accurately integrate data and develop a single version of truth from numerous data sources. http://www.lockheedmartin.com/us/news/press-releases/2014/september/isgs-igc-0908.html
Raytheon delivers first Block 2 Rolling Airframe Missiles to US Navy
Aug. 27, 2014 -- Raytheon Company delivered the first Block 2 variant of its Rolling Airframe Missile system to the U.S. Navy as part of the company's 2012 Low Rate Initial Production contract. RAM Block 2 is a significant performance upgrade featuring enhanced kinematics, an evolved radio frequency receiver, and an improved control system.
RAM is a cooperative program between the U.S. and German governments with industry support from Raytheon and RAMSYS of Germany.
http://raytheon.mediaroom.com/index.php?s=43&item=2634
Raytheon receives $109 million contract for Patriot Air and Missile Defense SystemUS and international Patriot partners
Sept. 10, 2014 / Raytheon Company has received a $109 million Engineering Services contract for its Patriot Air and Missile Defense System. The contract, issued by the U.S. Army Aviation and Missile Command, Redstone Arsenal, Ala., is for ongoing technical support and services to the U.S. Army and Foreign Military Sale customers to ensure readiness of their Patriot systems. http://raytheon.mediaroom.com/index.php?s=43&item=2638
Raytheon begins full rate production on TALON Laser Guided Rockets for the UAE
Sept. 15, 2014 Under a $117 million contract awarded to Raytheon Company (NYSE: RTN), Raytheon Missile Systems has begun production of the TALON Laser Guided Rocket. In 2013, the Armed Forces General Headquarters of the United Arab Emirates awarded Tawazun a contract to procure the TALON Laser Guided Rocket.
Under the contract, Raytheon will maintain full integration of the TALON system into the UAE Armed Forces to include logistics, training and warranty support. Raytheon is also exploring options to integrate TALON onto NIMR armored vehicles which are now serving in different units of the UAE Armed Forces.
Earlier this year, the U.S. Army awarded TALON Air Worthiness Certification on the Apache attack helicopter. During TALON's development and test program, Raytheon completed more than 35 TALON firings from the AH-64D Apache, resulting in a solution that is ready for international direct commercial sales customers today.
http://raytheon.mediaroom.com/index.php?s=43&item=2639
Raytheon awarded $149 million contract by Rafael for Iron Dome interceptor components
Sept. 30, 2014 -- Raytheon Company (NYSE: RTN) has received a contract award from Rafael Advanced Defense Systems Ltd. valued at $149.3 million to provide products for the Tamir interceptor used in the defensive Iron Dome Weapon System.
Raytheon will utilize its extensive technology resources and supplier network to provide a second source of supply for essential Iron Dome interceptor components. With more than 1,000 successful intercepts, Tamir is the only combat proven counter rocket, artillery, and mortar interceptor available for U.S. and coalition partners today.
http://raytheon.mediaroom.com/index.php?s=43&item=2648
Raytheon awarded $205 million Phalanx upgrade contract
Oct. 30, 2014 -- Raytheon Company was awarded a multi-year bulk buy contract totaling over $200 million to provide Phalanx Close-in Weapon Systems (CIWS) upgrade kits, support equipment and hardware spares to the Japan Maritime Self-Defense Force (JMSDF). The CIWS is an integral element of Japan's Ship Self-Defense Program. http://raytheon.mediaroom.com/index.php?s=43&item=2673
Technology
Boeing Laser Demonstrator Destroys Targets through Wind and Fog Sept. 4, 2014
Boeing and the U.S. Army tested the capabilities of the High Energy Laser Mobile Demonstrator (HEL MD) by successfully targeting a variety of aerial targets in maritime conditions, such as windy, rainy and foggy weather conditions at Eglin Air Force Base in Florida. In these recent demonstrations, HEL MD used a 10-kilowatt, high energy laser installed on an Oshkosh tactical military vehicle. The demonstrator is the first mobile, high-energy laser, counter rocket, artillery and mortar (C-RAM) platform to be built and demonstrated by the U.S. Army.
Throughout the two series of demonstrations, Boeing achieved all performance objectives on schedule, successfully engaging more than 150 aerial targets including 60 mm mortars and unmanned aerial vehicles (UAVs). The next step will be to install a 50 or 60-kilowatt laser on HEL MD to demonstrate counter RAM and UAV capability at this tactically significant power level.
http://boeing.mediaroom.com/Boeing-Awarded-New-Contract-to-Provide-Warhead-Arming-Devices-to-U-S-Air-Force
Raytheon Awarded $11 million to develop directed energy technology for light vehicle deployment
Raytheon Awarded $11 million to develop directed energy technology for light vehicle deployment
Aug. 13, 2014 -- Laser weapon systems moved a step closer to reality with the award of an $11 million contract to Raytheon Company, Under an Office of Naval Research program, Raytheon will develop a vehicle-based laser device capable of defeating low-flying threats such as enemy drones.
The Ground Based Air Defense (GBAD) Directed Energy On-the-Move Future Naval Capabilities program calls for a field demonstration of a Humvee-mounted short-range laser weapon system with a minimum power output of 25kW. The Raytheon-built laser will be packaged to meet the U.S. Marine Corps' demanding size, weight and power requirements.
Raytheon's planar waveguide (PWG) technology is the key to its unique approach to high energy lasers. Using a single PWG, the size and shape of a 12 inch ruler, Raytheon high energy lasers generate sufficient power to effectively engage small aircraft.
http://raytheon.mediaroom.com/index.php?s=43&item=2628
Lockheed Martin Conducts Flight Tests Of Aircraft Laser Turret For DARPA 
Sept. 15, 2014 – Lockheed Martin, in partnership with the Air Force Research Laboratory (AFRL) and the University of Notre Dame, has demonstrated the airworthiness of a new beam control turret being developed for the Defense Advanced Research Projects Agency (DARPA) and AFRL to give 360-degree coverage for high-energy laser weapons operating on military aircraft. A research aircraft equipped with the Aero-adaptive Aero-optic Beam Control (ABC) turret conducted eight flights in Michigan.
The ABC turret system is designed to allow high-energy lasers to engage enemy aircraft and missiles above, below and behind the aircraft. Lockheed Martin's flow control and optical compensation technologies counteract the effects of turbulence caused by the protrusion of a turret from an aircraft's fuselage. All turret components met U.S. Air Force and Federal Aviation Administration airworthiness requirements. Subsequent flight tests over the next year will demonstrate the turret in increasingly complex operations.
The Aero-adaptive Aero-optic Beam Control turret that Lockheed Martin is developing for the Defense Advanced Research Projects Agency and the Air Force Research Laboratory has completed initial flight testing. The prototype turret was tested on the University of Notre Dame's Airborne Aero Optical Laboratory Transonic Aircraft in Michigan. (Photo: Air Force Research Laboratory.) ( Question: did your school have a "Airborne Aero Optical Laboratory Transonic Aircraft"? No? Mine didn't either! )
http://www.lockheedmartin.com/us/news/press-releases/2014/september/0915-ss-laser.html
Successful Final Qualification Firing for MdCN  (Naval Cruise Missile)  28/10/2014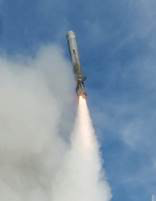 The French DGA (Direction Générale d'Armement) has successfully carried out the final qualification firing of the MdCN system (Missile de Croisière Naval, also known as NCM or Naval Cruise Missile). The firing, which took place on 27th October 2014 at the DGA's "Missile Test Centre" at Biscarrosse (Landes) on France's Atlantic coast, represented a missile launch from a frigate.
The firing enabled the full scope of flight objectives to be satisfied, particularly regarding the demonstration of the missile's range performance. This success comes as a result of the intense and coordinated efforts of a number of state participants (notably the DGA's test and evaluation centres and the French Navy) as well as industry (MBDA France).
MdCN will equip the French Navy's FREMM (multi-mission frigates) during 2015 and its Barracuda submarines in around 2018.
Featuring a range of several hundred kilometers, MdCN has been devised for striking targets deep within enemy territory. It complements the air-launched cruise missile, Storm Shadow/SCALP, from which it is derived. Carried on surface warships positioned safely for prolonged periods in international waters, overtly (frigates) or discretely (submarines), MdCN has been designed for operations calling for the destruction of high value, strategic infrastructures. http://www.mbda-systems.com/mediagallery/#/news/3435
Aerojet Rocketdyne Reports Successful SM-3 Block IB Intercept Test
Nov. 6, 2014 – Aerojet Rocketdyne, announced today that its propulsion systems played a crucial role during a first-of-its-kind missile defense test conducted by the Missile Defense Agency (MDA) and the U.S. Navy. During Flight Test Standard Missile-25 (FTM-25), conducted at the Pacific Missile Range Facility in Kauai, Hawaii, multiple targets were intercepted over the Pacific Ocean.
The Developmental Test/Operational Test event demonstrated several "firsts," including the first live firing engagement of both Standard Missile-3 (SM-3) and Standard Missile-2 guided missiles against MDA Ballistic Missile Defense targets and cruise missile targets.
Aerojet Rocketdyne's MK 72 booster and MK 104 dual-thrust rocket motor provided the first- and second-stage propulsion on the SM-3 Block IB guided missile used in the test, while Aerojet Rocketdyne's Throttling Divert and Attitude Control System (TDACS) maneuvered the kinetic warhead to successfully impact the short-range ballistic missile target.
In concert with Raytheon, Aerojet Rocketdyne is developing the third generation of sea- and land-based U.S. missile defense capabilities by providing reliable, low-risk propulsion technologies. In addition to the current production of MK 72 and MK 104 rocket motors and the SM-3 Block IB TDACS, the company is developing the TDACS for SM-3 Block IIA, the planned missile variant upgrade to the current SM-3 Blocks IA and IB guided missiles.
http://www.rocket.com/article/aerojet-rocketdyne-delivers-100-percent-mission-success-sm-3-block-ib-intercept-test
Nammo successfully test fires large hybrid rocket motor  14 October 2014
On Tuesday October 7th, Nammo passed a historical milestone by successfully firing the first of a series of large hybrid rocket motors it has been developing. This test also inaugurated Nammo's brand new test facility for Green Propulsion at its test center for rocket motors in Raufoss, Norway. This purpose-built test facility will accelerate Nammo's development of environmentally friendly rockets for atmospheric research and space applications. The facility is unique in Europe, both in terms of its size and its capabilities. 
The design of the motor tested represents the latest in the evolution of hybrid rocket motor technology, and strengthens Nammo's leading position.  Nammo's hybrid technology is based on a rocket propellant combination of hydrogen peroxide as the oxidizer and synthetic rubber as the fuel.   Hybrid rockets are a safe, controllable, low-cost and green alternative for rocket propulsion.
The test firing of the rocket was an unprecedented success. The firing lasted for a predefined 10 seconds, producing a maximum thrust of 30 kN (or 3 tons). The engine started instantly after ignition and the firing was terminated in a controlled manner by closing the main oxidizer valve. Normally a full burn would have lasted 25 seconds, but on this occasion the test was terminated after 10 seconds for a full inspection. Full integrity of the motor was conserved, meaning that the engine could have been started again to burn for the remaining 15 seconds, if so desired.
The hybrid rocket motor tested on October 7th is not only interesting from a new technology development perspective; it is also the first building block for the North Star Rocket Family. This family of affordable sounding rockets and small launchers, is developed to launch small satellites into orbit from Andøya Space Center in Northern Norway. The same motor will also be used to power the Bloodhound supersonic car to achieve a new land speed record of 1000 mph in 2016. http://www.nammo.com/news-and-events/news/nammo-successfully-test-fires-large-hybrid-rocket-motor/
(I would propose reading the next six articles together… a failure as well as a series of successful launches – and landing on a comet)
ATK Statement Regarding Orbital's Antares Launch Failure
Oct. 29, 2014 -- An unfortunate failure occurred during Orbital Sciences Corporation's Antares launch on October 28, 2014. ATK is conducting a thorough evaluation of any potential implications resulting from this incident, including current operating plans, long-term strategies, and the proposed transaction to merge the company's Aerospace and Defense businesses with Orbital.
Orbital blames rocket engine failure for launchpad blast
By AFP Nov 5, 2014 On the evening of October 28, an unmanned Antares rocket that held the Cygnus cargo ship packed with thousands of pounds of gear for the astronauts exploded seconds after liftoff. Orbital Sciences Corporation said Wednesday a preliminary probe into last month's unmanned rocket blast shows an engine failure was to blame for the explosion shortly after liftoff from Wallops Island, Virginia.
The company said after the accident that a suspected rocket engine failure led a control operator to detonate the rocket in order to prevent damage to people in the area.
The type of engines used to power the Antares rocket were a pair of decades-old Ukrainian-designed AJ-26s, that were refurbished by Aerojet Rocketdyne. "Preliminary evidence and analysis conducted to date points to a probable turbopump-related failure in one of the two Aerojet Rocketdyne AJ26 stage one main engines," Orbital said in a statement.
"As a result, the use of these engines for the Antares vehicle likely will be discontinued." Instead, the company vowed to speed up "an upgrade of the Antares medium-class launcher's main propulsion system." Orbital said it would be able to maintain its contract with NASA and "all remaining cargo will be delivered to the International Space Station (ISS) by the end of 2016" with no extra costs and "only minor adjustments" to the launch schedule in the near future.
https://uk.news.yahoo.com/orbital-blames-rocket-engine-failure-launchpad-blast-151555735.html#fAbKHOb
Aerojet Rocketdyne Supports Fifth Successful Launch in Six Weeks  
Aug. 13, 2014  -- Aerojet Rocketdyne, a GenCorp company, supported the launch of the WorldView-3 commercial remote sensing satellite into orbit - the fifth launch in six weeks. The mission was launched from Vandenberg Air Force Base in California aboard a United Launch Alliance (ULA) Atlas V rocket for Lockheed Martin Commercial Launch Services. Aerojet Rocketdyne launch vehicle propulsion included an RL10A-4-2 upper-stage engine, a dozen attitude control thrusters and six helium pressurization tanks.
After the Atlas V lifted off the pad and the Centaur upper stage separated from the launch vehicle, a single RL10A-2 engine ignited to place the payload into orbit, helped by the Centaur thrusters and other Aerojet Rocketdyne-provided hardware for both the booster and upper stage. The RL10A-4-2 engine delivers 22,300 pounds of thrust to power the Atlas V upper stage, using cryogenic liquid hydrogen and liquid oxygen propellants during its operation. ARDÉ, a subsidiary of Aerojet Rocketdyne based in New Jersey, provides the pressure vessels on the first and second stages on the launch vehicle. Twelve Aerojet Rocketdyne monopropellant (hydrazine) thrusters in four modules on the Atlas V Centaur upper stage provided roll, pitch and yaw control as well as settling burns.
WorldView-3, owned and operated by DigitalGlobe, is the first multi-payload, super-spectral, high-resolution commercial satellite for Earth observations and advanced geospatial solutions. It is designed to collect up to 680,000 square kilometers of imagery per day, and sense both the visible spectrum as well as deeper into the infrared spectrum. The satellite will carry an atmospheric instrument called CAVIS (Cloud, Aerosol, water Vapor, Ice, Snow). Built by Ball Aerospace & Technologies Corp., CAVIS is designed to monitor the atmosphere and provide correction data to improve satellite imagery when it images Earth objects through haze, soot and dust.
http://www.rocket.com/article/aerojet-rocketdyne-supports-fifth-successful-launch-six-weeks-0
Aerojet Rocketdyne Supports Launch of Global Positioning System Satellite
Oct. 29, 2014 – Aerojet Rocketdyne, helped successfully propel another in a series of Global Positioning System (GPS) IIF military navigation satellites into orbit today. The latest mission was launched from Cape Canaveral Air Force Station in Florida aboard a United Launch Alliance (ULA) Atlas V rocket. Aerojet Rocketdyne propulsion included an RL10A-4-2 upper-stage engine, a dozen attitude control thrusters and six helium pressurization tanks.
The GPS satellite, built by The Boeing Company in El Segundo, California, includes a pair of Aerojet Rocketdyne propulsion systems which will be used periodically to restore the satellites to their designated orbits and to eventually decommission them.
http://www.rocket.com/article/aerojet-rocketdyne-supports-launch-global-positioning-system-satellite
Orion Spacecraft Complete and Ready for Integration with Delta IV Heavy Rocket KENNEDY SPACE CENTER, Oct 30, 2014 – NASA and Lockheed Martin have completed final assembly and testing of the 72 foot tall Orion spacecraft.
The final assembly stages of the spacecraft included installing Orion's Ogive panels, which protect the crew module from harsh acoustic and vibration environments during launch and ascent. Engineers also installed fasteners to secure the panels in place and covered them with a thermal protection coating. Orion was then lifted by crane, rotated into the proper orientation for mating with the Delta IV Heavy launch vehicle, and placed onto the transport pallet.
The team then performed a fairing purge test, which verifies how much dry gas needs to be pumped into the space between the Ogive panels and the spacecraft. The dry gas ensures that when Orion is transported to the launch pad, it does not accumulate moisture, which could cause corrosion and contamination.
When Orion arrives to launch pad 37 it will immediately be lifted 170 feet up and mated to the Delta IV Heavy. Over the next few weeks, the rocket and spacecraft will be integrated, powered up, and interfaces between the two will be verified in preparation for Exploration Flight Test-1 (EFT-1) on December 4.
During EFT-1, the uncrewed spacecraft will launch on a Delta IV Heavy rocket and will travel 3,600 miles beyond Earth—15 times further than the International Space Station. That same day, Orion will return to Earth at a speed of approximately 20,000 mph for a splashdown in the Pacific Ocean. EFT-1 will provide engineers with data about systems critical to crew safety such as heat shield performance, separation events, avionics and software performance, attitude control and guidance, parachute deployment, and recovery operations to validate designs of the spacecraft before it begins carrying humans to new destinations in deep space.
http://www.lockheedmartin.com/us/news/press-releases/2014/october/space-orion-complete.html
Comet probe landing 13 November 2014
The landing of a European Space Agency's (Esa) probe on a comet is being celebrated by newspapers across Europe. Pictures of the probe Philae and the Comet 67P Churyumov-Gerasimenko - affectionately shortened to "Churi" by many papers - are a prominent feature of the mainly front-page coverage.
http://www.bbc.com/news/world-europe-30037251
Lockheed Martin DMLGB Achieves Objectives in Marine Corps Training Exercises
Aug. 4, 2014 – Lockheed Martin's Dual Mode Laser Guided Bomb (DMLGB) was successfully employed during recent U.S. Marine Corps weapons and tactics instructor training.
During the training exercises at Marine Corps Air Station Yuma in Arizona, AV-8B Harrier aircrews released 19 GBU-12F/B DMLGB weapons. The weapons were released in tactically representative engagements, and used various targeting modes against fixed targets. All weapons performed successfully and met Marine Corps mission objectives.
Lockheed Martin's DMLGB adds GPS/Inertial Navigation System (INS) guidance to standard laser-guided bomb weapons, allowing the U.S. Navy and Marine Corps to execute precision-strike missions against stationary and relocatable targets in all weather conditions. The DMLGBs can operate in laser mode only, GPS/INS mode only or dual mode to provide pilots with the flexibility to engage various target types in a single mission. In 2013, Lockheed Martin upgraded the DMLGB's block II operational flight program software, improving overall weapon performance and effectiveness in all release modes.
As the sole-source developer and provider of the DMLGB kits, Lockheed Martin upgraded more than 7,000 PavewayTM II LGB guidance kits with dual mode, all-weather capability. Additionally, the company has delivered more than 70,000 LGB kits and over 135,000 Enhanced Laser Guided Training Rounds to the U.S. Navy, Marine Corps, Air Force and 20 international customers.
http://www.lockheedmartin.com/us/news/press-releases/2014/august/mfc-0731-2014-lockheed-martin-dual-mode-laser-guided-bomb-achieves-objectives-marine-corps-training-exercises.html
Carbon fiber clouds hiding naval destroyers from anti-ship missiles Jun 28, 2014 
The US Navy has tested radar absorbing carbon-fiber cloud generators on board ships, which could be used to protect naval vessels from attacks by radar-guided anti-ship and air-launched cruise missiles.  The Naval Warfare Development Command tested the maritime obscurant generator prototypes June 21-25 to assess their tactical effectiveness for anti-ship missile defense. The shipboard device generates carbon-fiber particles suspended in a cloud of smoke. These particles absorb and diffuse radar waves emanating from the seekers of incoming missiles, thus potentially obscuring the target from the missile's seeker.
USS Mustin (DDG 89), USS Wayne E. Meyer (DDG 108) and USS Frank Cable (AS 40) test maritime obscurants held south of Guam to assess their tactical effectiveness for anti-ship missile defense. Note how the distribution of the cloud can be manipulated by the ship, under the same wind conditions, while the vessels maintain the same heading. (U.S. Navy photo, Timothy Wilson)  
http://defense-update.com/20140628_pandarra-fog.html#.VGOFFf7QeJA
Raytheon AI3 missile intercepts first cruise missile target
Raytheon AI3 missile intercepts first cruise missile target
PT. MUGU, Calif., Aug. 28, 2014 / Raytheon Company and the U.S. Army achieved the first intercept of a cruise missile by the Accelerated Improved Intercept Initiative missile. An AI3 missile also destroyed an unmanned aerial system (UAS). Both intercepts occurred during the recent Black Dart demonstration – a U.S. military exercise held July 29 - August 11.
Fired from the Avenger launcher, AI3 missiles intercepted both targets at low altitude over water and in a high-clutter marine environment – capabilities made possible by upgrades to the missile's semi-active seeker and radar. The ability to defeat UAS and cruise missile threats is the key requirement of the U.S. Army's Indirect Fire Protection Capability (IFPC) Block 1. IFPC is a mobile, ground-based weapon system designed to acquire, track, engage and defeat UAS, cruise missiles, rockets, artillery and mortars. Earlier this year, in preparation for the Black Dart event, AI3 missiles destroyed a 240 mm rocket and a UAS at Yuma Proving Ground, Arizona.
About AI3
In 2012-13, Raytheon developed and successfully tested a system, also called AI3, to counter rockets, artillery and mortars (C-RAM). The system included the AI3 missile as its centerpiece, plus fire control radar, command and control node and launcher. In Sept. 2013, the AI3 system destroyed 22 of 24 threats, including 107mm rocket targets at various quadrant elevations, as well as mortars, an unmanned aircraft system and improvised rocket-assisted mortars. Raytheon developed the AI3 system in just over 18 months to meet a Department of Defense urgent need, and demonstrated that it also meets IFPC Block 2 requirements for C-RAM.
http://raytheon.mediaroom.com/index.php?s=43&item=2635
MBDA's MILAN ER serial missiles pass first firing tests  21 October 2014 
On October 15, MBDA completed the firing campaign to validate the series production of the Milan ER, as jointly scheduled with export customers. Four totally successful firings against fixed and moving targets confirmed the performance capabilities of the firing post, of the missile as well as of the warhead. This final technical step follows the qualification of the Milan ER weapon system that was achieved during the first half of 2014. MBDA will now be able to finalise the production work and deliver the first units in the spring next year, as planned.
The development of the MILAN ER system is self-funded by MBDA. The system offers the operational characteristics of the MILAN family of missiles, which are currently used by the armed forces of around forty countries worldwide, and also features latest-generation technologies with a strongly extended range, a highly powerful warhead and a fully digital firing post. 
http://www.mbda-systems.com/mediagallery/#/news/3423
Soldiers certified to protect Metro D.C. from cruise missiles, drones with Raytheon's JLENS radar blimp Soldiers certified to protect Metro D.C. from cruise missiles, drones with Raytheon's JLENS radar blimp Sept. 18, 2014
Mission ready. That was the verdict for the U.S. Army's A Battery, 3rd Air Defense Artillery, who were recently certified to operate Raytheon Company's JLENS radar to protect the National Capital Region (NCR) from cruise missiles and drone threats.
JLENS is a system of two aerostats, or tethered blimps, that float 10,000 feet in the air. The helium filled aerostats, each nearly as long as a football field, carry powerful radars that can protect a territory roughly the size of Texas from airborne threats. JLENS provides 360-degrees of defensive radar coverage and can detect and track objects like cruise missiles, drones and airplanes from up to 340 miles away.
"When JLENS deploys to Aberdeen Proving Ground, Md., later this year, it will provide a powerful new capability to the National Capital Region's Integrated Air Defense System (IADS)," said Raytheon's Dave Gulla. JLENS consists of an integrated radar system on two tethered, 80-yard aerostats, which fly at altitudes of 10,000 feet above sea level and remain aloft and operational for 30 days. This capability better enables commanders to defend against threats including cruise missiles, drones and aircraft. JLENS also provides ascent phase detection of tactical ballistic missiles and large-caliber rockets. http://raytheon.mediaroom.com/index.php?s=43&item=2641
U.S. Air Force tests upgraded HARM - Missile improvements add precision, reduce collateral damage Aug. 22, 2014
Raytheon Company and the U.S. Air Force successfully flight tested an upgraded High-Speed Anti-Radiation Missile (HARM). The HARM Control Section Modification (HCSM) is more precise and accurate, which reduces potential collateral damage.
During this test mission, an F-16 aircraft fired an HCSM, AGM-88F, against an emitter located outside of a zone of exclusion, which contained a similar radiating emitter. The HCSM used its new global positioning system (GPS)/inertial measurement unit (IMU) capability and successfully impacted the correct target. Another HCSM test mission is needed to determine if HCSM is ready for deployment to the U.S. Air Force. The Air Force awarded Raytheon the HCSM contract in 2012. The missile was recently cleared for full rate production.
About HARM and HCSM
The AGM-88 High Speed Anti-Radiation Missile is used to suppress or destroy surface-to-air missile radars, early warning radars, and radar-directed air defense artillery systems. HARMs have made hostile airspaces worldwide safer for U.S. and allied warfighters. The missile resides in the inventories of eight countries.
More than 4,000 HARMs have been employed in combat.
HCSM adds GPS/IMU navigation accuracy, giving HARM the ability to engage time-critical targets.
HCSM has new features that allow it to engage a wide range of modern SAMs, are resistant to counter-HARM tactics, and reduces the risk of fratricide or collateral damage.
http://raytheon.mediaroom.com/index.php?s=43&item=2631
Small Diameter Bomb II glides toward Milestone C
Small Diameter Bomb II glides toward Milestone C
Sept. 4, 2014 - Raytheon Company and the U.S. Air Force completed three successful Small Diameter Bomb II (SDB II) Guided Test Vehicle (GTV) flights against stationary and moving targets, resulting in direct hits. The flight tests are the last GTVs required prior to Milestone C and the start of low-rate initial production.
During the test, SDB II's tri-mode seeker used sensor data to determine whether the vehicle was wheeled or tracked, aiding in target identification and prioritization. Upcoming live-fire shots will further demonstrate the end-to-end capability of SDB II and its readiness to enter production. These two live fire tests are scheduled to be completed in the coming weeks, which will utilize live warheads and fuzes on the SDB II against tactically representative targets.
SDB II employs Raytheon's tri-mode seeker. The new seeker operates in three modes: millimeter-wave radar, uncooled imaging infrared and semi-active laser. These three modes enable the weapon to seek and destroy targets, even in adverse weather conditions from standoff ranges.
http://raytheon.mediaroom.com/index.php?s=43&item=2636
MBDA readies SIMBAD RC for deliveries 26/10/2014
The SIMBAD-RC ship self-defence system of MBDA has now entered the qualification phase. The first deliveries of series production units will occur in 2015.
The SIMBAD-RC is the "remote controlled" variant of the SIMBAD twin launcher system equipped with two ready-to-fire Mistral missiles, already in service with the French Navy and with several navies around the world.
Designed to be the main air defence system of Fast Patrol Boats and auxiliary ships or a complementary air defence system for corvette/frigate, the SIMBAD-RC is mounted on a stabilized launcher and remotely controlled from the ship's operations room, where a single operator can control two SIMBAD-RC launcher systems.
The SIMBAD-RC allows the warship self-protection against a wide range of threats ranging from anti-ship missile to FIAC's.
http://www.mbda-systems.com/mediagallery/#/news/3428
BAE offers insight to some possible Future Aircraft Technologies
Links to present topics including On-board 3D printing, adaptable and self-healing Aircraft systems, and Directed energy.
http://www.baesystems.com/enhancedarticle/BAES_168290/aircraft-technologies-of-the-future?from=homepage-rzz&_afrLoop=338065763237000&_afrWindowMode=0&_afrWindowId=null#!%40%40%3F_afrWindowId%3Dnull%26_afrLoop%3D338065763237000%26from%3Dhomepage-rzz%26_afrWindowMode%3D0%26_adf.ctrl-state%3Dwkcogelbw_77
Laser-Guided Rocket (APKWS) Successfully Demonstrates Precision Strike Capability for Australian Defence Forces Helicopters Monday 13 October 2014
The Australian Defence Forces recently concluded a highly successful trial of BAE Systems' Advanced Precision Kill Weapon System (APKWS™) laser-guided rocket for use on its Army and Navy helicopters. The ground trial marks the first time the APKWS technology, which transforms a standard unguided 2.75-inch (70-millimeter) rocket into a precision laser-guided weapon, has been demonstrated on a Forges de Zeebrugge (FZ) rocket. Prior use in the U.S. military, the APKWS technology has always been used with a Hydra rocket,. This demonstration highlights the APKWS technology and ease of deployment on the FZ rocket and its native launcher.
During the ground-based live fire event in August, held at the Woomera test range in South Australia, the APKWS laser-guided technology was on target with all seven shots fired while integrated with the FZ90 rocket motor and warhead. There was no modification required to the guidance kit to integrate with the FZ rocket. Based on the successful test, the Australian Army intends to conduct a live fire flight trial in November that could lead to the APKWS rocket fielding on the Army's Airbus Tiger Armed Reconnaissance Helicopter and Navy's MH-60R Seahawk platforms beginning in 2015.
Conducted by the Australian Aerospace Operational Support Group, the trial was designed to qualify the APKWS rocket for use by the Australian military to bridge the current capability gap between unguided small-diameter rockets and larger-diameter anti-armor munitions. Unlike other available offerings, the flexibility of the APKWS technology allowed the Australian Defence Force to move from concept to live fire trial in a matter of months while using its current rocket inventory and equipment. http://www.baesystems.com/article/BAES_177278/laser-guided-rocket-successfully-demonstrates-precision-strike-capability-for-australian-defence-forces?_afrLoop=338667382167000&_afrWindowMode=0&_afrWindowId=null#!%40%40%3F_afrWindowId%3Dnull%26_afrLoop%3D338667382167000%26_afrWindowMode%3D0%26_adf.ctrl-state%3Dwkcogelbw_158
Raytheon fires four TALON Laser-Guided Rockets from MD 530G helicopter July 31, 2014
Raytheon Company (NYSE: RTN) and MD Helicopters, Inc. successfully fired four TALON laser guided rockets from the MD 530G armed aerial scout (AAS) helicopter during a series of tests at Yuma Proving Ground, Ariz. This latest successful firing and subsequent original equipment manufacturer certification of TALON follows the recent certification in April for air worthiness release of the weapon on the Apache AH-64D/E attack helicopter. During TALON's development program and test program, Raytheon completed more than 35 TALON firings from the AH-64D Apache, which has resulted in a solution that is ready for the international direct commercial sales customers today.
About TALON
TALON LGR is a low-cost, digital semi-active laser guidance and control kit co-developed with the United Arab Emirates. TALON's guidance section integrates directly to the front of the legacy 2.75-inch Hydra-70 unguided rockets while its unique tail kit replaces the legacy Hydra-70 wraparound tail kit. Raytheon's TALON requires no hardware or software modifications to the launcher or aircraft platform for any aircraft that fires 2.75-inch Hydra-70 unguided rockets using the standard M260/261 launchers. TALON is fully compatible with existing airborne and ground laser designators.
About MD Helicopters
MD Helicopters, Inc. (MDHI), a Lynn Tilton company, is a manufacturer of commercial, military, law enforcement and air-rescue helicopters. The MD Helicopters family includes the twin-engine MD Explorer, and single engine versions of the MD 500E, MD 520N, MD 530A, MD 530F, MD 530G, MD 540A and MD 600N.
http://raytheon.mediaroom.com/index.php?s=43&item=2624
Aerojet Rocketdyne Awarded Contract for Large Scale Additive Manufacturing
Aug 18, 2014 – Aerojet Rocketdyne was recently awarded a contract by Wright-Patterson Air Force Base through the Defense Production Act Title III Office for large-scale additive manufacturing development and demonstration. The contract will secure multiple large selective laser melting machines to develop liquid rocket engine applications for national security space launch services. Aerojet Rocketdyne and its subcontractors will design and develop larger scale parts to be converted from conventional manufacturing to additive manufacturing (3D printing).
"We have developed and successfully demonstrated additive-manufactured hardware over the last four years but the machines have been limited in size to 10-inch cubes," said Steve Bouley, vice president of Space Launch Systems at Aerojet Rocketdyne. "These next generation systems are about six times larger, enabling more options for our rocket engine components.."
Under the contract, Aerojet Rocketdyne will demonstrate three different alloys with these larger additive manufacturing machines to include nickel, copper and aluminum alloys. Parts ranging from simple, large ducts to complex heat exchangers are planned to be demonstrated in full scale. The program scope is expected to replace the need for castings, forgings, plating, machining, brazing and welding. http://www.rocket.com/article/aerojet-rocketdyne-awarded-defense-contract-large-scale-additive-manufacturing
Aerojet Rocketdyne Successfully Tests Thrust Chamber Assembly Using Copper Alloy Additive Manufacturing Technology
Oct. 17, 2014  -- NASA and Aerojet Rocketdyne, successfully completed a series of hot-fire tests on an advanced rocket engine Thrust Chamber Assembly (TCA) using copper alloy additive manufacturing technology. This testing, conducted for the first time in the industry, was done with cooperation between Aerojet Rocketdyne, NASA's Space Technology Mission Directorate Game-Changing Development Program and NASA's Glenn Research Center under a Space Act Agreement.
"This work represents another major milestone in the integrated development and certification of the materials characterization, manufacturing processes, analysis and design-tool technologies that are required to successfully implement Selective Laser Melting for critical rocket engine components," said Jay Littles, director of Advanced Launch Programs at Aerojet Rocketdyne. "Aerojet Rocketdyne continues to expand the development of novel material and design solutions made possible through additive manufacturing, which will result in more efficient engines at lower costs. We are working a range of additive manufacturing implementation paths - from affordability and performance enhancement to legacy products such as the RL10 upper stage engine. We also are applying the technology to next-generation propulsion systems, including the Bantam Engine family, as well as our new large, high performance booster engine, the AR1."
The hot-fire tests used Aerojet Rocketdyne's proprietary Selective Laser Melting copper alloy enhanced heat transfer design chamber, which demonstrated a significant increase in performance over traditional combustion chamber designs and material systems. "In all, NASA and Aerojet Rocketdyne conducted 19 hot-fire tests on four injector and TCA configurations, exploring various mixture ratios and injector operability points. At the conclusion of the tests, the injector and chamber hardware were found to be in excellent condition, and test data correlated with performance predictions," said Lee Ryberg, lead project engineer on Aerojet Rocketdyne's Additive Manufacturing development team.
http://www.rocket.com/article/aerojet-rocketdyne-successfully-tests-thrust-chamber-assembly-using-copper-alloy-additive
The 3D-Printed Car
At the International Manufacturing Technology Show in Chicago, Local Motors 3D printed a plastic car called the Strati in front of thousands of attendees. The Strati is not the first car ever to be 3D-printed – that honour goes to the Urbee 2, which took 2,500 hours to make last year. However what makes this car interesting is that the whole vehicle is only composed of a total of 40 parts. And one was "printed" during a recent trade show in 44 hours.
"People were using 3D to mimic steel or parts we have now," Rogers says. "They're trying to print things that look perfect. The way we're thinking is, stop trying to make the 3D printer do everything." Instead, the new printer quickly generates a shape that approximates the final product, and a milling machine finishes the job. The idea is to print a single piece of carbon-reinforced plastic with no separate chassis or body. Peripheral parts—suspension, wheels, the motor and battery—are bolted on.
http://www.popularmechanics.com/cars/news/industry/the-first-3d-printed-car-breakthrough-awards-2014 and http://www.ibtimes.co.uk/strati-worlds-first-3d-printed-electric-car-built-just-44-hours-1465706